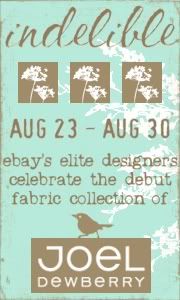 What an exciting day this is!! Not only is the sun shining, and we're planning a trip to the petting zoo, but...the Indelible launch is finally here!
I have joined over 50 other independant designers for an amazing launch using the debut collection of fabric by
Joel Dewberry
.
Click here
or on the logo to the right to see the whole fantabulous launch!
My design includes a wrap top with flutter sleeves, ruffle-legged cord pants in a sublime shade of baby blue, and a wide headband. Click the picture to the right, or
click here
to see my listing.
I also want to say thanks for the support over on
Etsy
!! I am loving the simplicity of selling over there! Fiona designed a long-sleeved T for herself, and I'm offering it as a custom tee over there.
Click here
to see that listing.
Have a great Thursday! The sun is shining, so I hope I will as soon as I can wrangle my kids out of jammies and into daywear, and out the door!